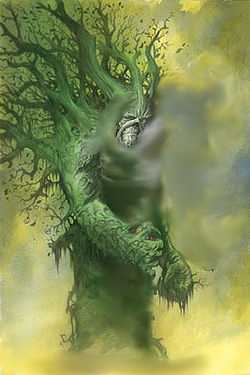 Species Name: Arboreal
In the last days of Atlantis, an enormous amount of magic was expended during its final invasion. Vast devastation was wrought on the known world, with forests blazing up, and islands sinking into the sea. Eventually Gaea became aware of the savage conflict. Shocked by the destruction, she gave sentience to a grove of trees (the original Throne of Trees). For thousands of years they acted as guardians of the earth and all the different forms of life which inhabit it. But the Parliament only existed in the Grove of Serenity, in between space and time. There were human agents who could act on their behalf in our world, and of course the elementals, but the Infernal forces seemed to be gaining ground. Eventually the decision was made to seed Earth with a new race; a sentient plant life.
Arboreals are sentient trees with human characteristics. They are typically protectors of the forests and antagonists to industrialization and despoiling of nature. They reproduce very slowly take many, many years to reach their full potential. Arboreal subspecies include 300 tree fern subspecies (with heights of 7-27 metres), 600 cycad, ginkgo and conifer subspecies and 220,000 flowering plant subspecies.
Type: Humanoid Herbaceous
Physical Traits: Bark skin
Height: See table below
Weight: See table below
Abilities: Nightvision up to 30 metres. Immunity all mind-affecting effects, poison, sleep effects, paralysis, polymorph, and stunning. Also see table below
Mobility: Legs
Sensory Organs: Visual
Communication: Vocal
Reproduction: Pollen
INT: 3D6, WIS: 4D6, STR: 3D6, DEX: 3D6, CON: 4D6, CHA: 2D6, MR: 2D6, HPs: CON +D20
Orbit/Climate: See Earth
Feeding Habits: The character produces his food photosynthetically by absorbing nutrients from the earth and atmosphere and using sunlight to make them into energy and tissue. He suffers D6 extra damage when attacked with weapons employing fire or cold. Complete nourishment for a day can be achieved by taking root in the soil for an hour during which it can't move. In addition they need three hours of bright sunlight or six hours of dim sunlight. Arboreals have the same water needs as other races and animals, although they usually draws it from the soil. If the plant doesn't meet these requirements for a day, it suffers the same consequences as any other race or animal that doesn't eat all day. It takes several days of no food or water to kill a plant. It should be noted that certain special buildings or rooms (such as greenhouses, etc.) may be constructed so that the plant will get the full benefit of equivalent sun and soil while indoors.
Lifespan: Unmeasured but possibly immortal
Technology: 2
Culture: Truly kind race with little violence or hatefulness
Government: Parliament of Nature via the Throne of Trees
Population: Unmeasured but now in the millions