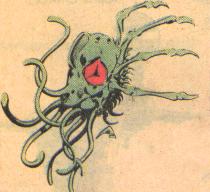 Species Name: Transllalors
Type: Squid
Trait: Tentacles
Height: 2 foot
Weight: 20 lbs
Mobility: Tentacles
Sensory organs: Visual
Communication: Telepathic
Reproduction: Asexual
Feeding habits: Herbivore
Lifespan: 110 years
Technology: 1
Culture: More tolerant than standard but still with some violence. Tentacular, but with a 3 part circular mouth, these highly specialised beings seem to be trainable in translation from the Hordian into any number of human languages. The skills of these creatures seem to vary from individual to individual, from crude word for word translation to smooth idiomatic speech.
Government: The Horde
Population: Sparsely populated
Home System:
See the Horde section for information.