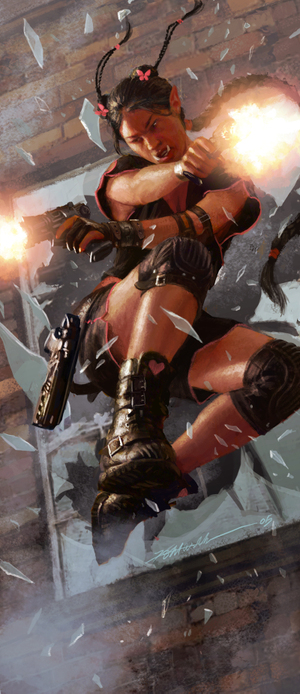 Species Name: Jotnar, Half Troll
A Jötnar was originally a giant in Norse mythology, a member of a race of nature spirits with superhuman strength, described as sometimes standing in opposition to the races of the tribes of the Æsir and Vanir, although they frequently mingle with or intermarry with these. In later Scandinavian folklore, the nature spirits called trolls (deriving from the term for 'magic') take over many of the functions of the more ancient concept of the Jötnar. Some of the Jötnar are attributed with hideous appearances – claws, fangs, and deformed features, apart from a generally hideous size. Yet when jötnar are named and more closely described, they are often given the opposite characteristics. Very old, they carry wisdom from bygone times.
Trolls normally breed only with those of their own kind. But from time to time a troll in rut finds itself without a mate. At such times, many trolls wander into the territories of other creatures in a nearly blind state of lust. Such trolls are often less particular about their choice of mates willing to make an attempt with whatever creature they encounter.
Jotnars are the unfortunate spawns of humans and trolls. Often grossly disfigured these monstrous humanoids tend to live far away from either of their parent races, as neither can stand various qualities that the Half-Troll possess. Too foul and mean for humans to bear, and not nearly cruel or evil enough to dwell with Trolls. Most often these creatures spend their forlorn lives alone, but on the rare occasion one finds beings that are willing to live with them and they can at least for a short time, find companionship.
A Jotnar is typically much tougher than a member of its human parent race. It gains much of the Troll's natural ability to shrug off damage; its superior strength, quickness and hardiness; and some of the natural weaponry that make trolls so fearsome.
Type: Humanoid
Physical Traits: Pointed ears and a wide mouth filled with sharp teeth and framed by black lips
Height: 6-8 ft
Weight: 150-280 lbs
Abilities: Nightvision up to 30 metres. Regenerate wounds x2 faster.
Mobility: Legs
Sensory Organs: Visual
Communication: Vocal
Reproduction: Sexual
INT: 3D6, WIS: 3D6, STR: 3D6 +3, DEX: 3D6, CON: 3D6 +3, CHA: 3D6 -3, MR: 3D6, HPs: CON +4D4
Orbit/Climate: See Earth
Feeding Habits: Omnivore
Lifespan: 120 years
Technology: 2
Culture: Standard. Diversified mix of kind and evil people. Jotnars' natural traits actually define their personality, they are tough and rather smart. They are able to survive through most diseases with their strong constitution and yet not fall into pit traps like fools. Jotnars are therefore aggressive, but actually smart about it.
Government: None
Population: 100,000