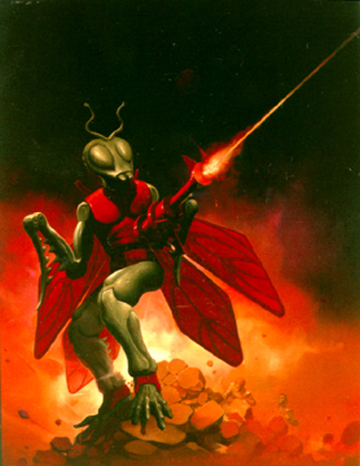 Species Name: Kronos, Phobos
Type: Insectoid
Trait: Adhesive feet, chitinous exoskeleton, 4 wings. Low intelligence, high agility.
Height: 5'6
Weight: 100 lbs
Mobility: Legs and wings. 50kph flight
Sensory organs: Visual
Communication: Vocal and antennae
Reproduction: Sexual, egg
INT: 3D6, WIS: 2D6, STR: 3D6, DEX: 4D6, CON: 3D6, CHA: 3D6, MR: 3D6, HPs: CON +D8
Feeding habits: carnivore, kill their prey after chasing it to the ground.
Lifespan: 90 years
Technology: 9
Culture: Malevolent, truly malicious race with no redeeming qualities at all.
Government: Oligarchy, government by restricted minority with little or no input from public.
Population: 37 million
Alien relations: the Kronos and Phobos readily serve Karza in exchange for the meat of their enemies the Insectivorids.