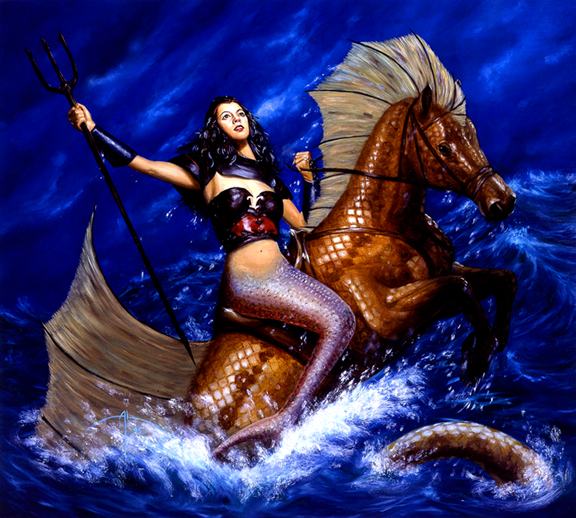 Species Name: Mer, Merman, Mermaid
Mers are mythical legendary creatures who have the form of a human from the waist up and are fish-like from the waist down. In Greek mythology Mermen were often illustrated to have green seaweed-like hair, a beard, and a trident while Mermaids are always beautiful. In Finnish mythology, Merfolks could cure illnesses, lift curses and brew potions, but could also cause unintended harm by becoming too curious about human life. Much like sirens, Mers sometimes sang to people and gods and enchanted them, distracting them from their work and causing them to walk off the deck or run their ships aground. Other stories depicted them as having carried humans down to their underwater kingdoms, forgetting that they cannot breathe underwater.
They have been said to sink ships by summoning great storms, but also are wise teachers, according to earlier mythology.
Type: Humanoid Aquatic
Physical Traits: Fish tail
Height: 5-6 ft
Weight: 80-190 lbs
Abilities: Nightvision equal to normal. When Mers come into contact with water for ten seconds, they grow long fish like tails covered in scales and end in a classic dolphin-shaped fluke. They also have a short dorsal fin running along the backs of their tails from their waists to a little more than halfway down the tail. Mers can breathe underwater.
Mobility: Tail while underwater, legs on land
Sensory Organs: Visual
Communication: Vocal
Reproduction: Egg
Attributes on land -
INT: 3D6, WIS: 3D6, STR: 3D6, DEX: 3D6, CON: 2D6, CHA: 3D6, MR: 3D6, HPs: CON +D12
Attributes underwater -
INT: 3D6, WIS: 3D6, STR: 4D6, DEX: 4D6, CON: 5D6, CHA: 3D6, MR: 15D6 (swim), HPs: CON +D20
Orbit/Climate: See Earth
Feeding Habits: Omnivore. Mers subsist on raw fish and seaweed. They are largely a hunter/gatherer society, who have made successful attempts to farm seaweed.
Lifespan: 90 years
Technology: 2. Mers use shells of huge crustaceans for shelter, and have developed only the most rudimentary tool-making culture. They live in caves on the ocean floor or the submerged portions of coral reefs. Because there can be no fire under water Merfolk have lacked the capacity to forge steel or burn fossil fuel for energy and are also unable to isolate or mix chemicals. Consequently Merfolk have never developed a native technology beyond that of flint tool making. Swords and armaments used in warfare were largely salvaged from the ruins of surface Atlantis or sunken ships of human construction. No system of mass communication has ever been developed, nor any means of mass transit.
Culture: Standard. Diversified mix of kind and evil people. Mefolk communicate by means of a limited range of high-pitched vocal sounds and elaborate "signing" gestures. A more varied spoken language is not possible due to the inherent limitations of sound transmission through water.
Government: Tribal
Population: 4,600,000