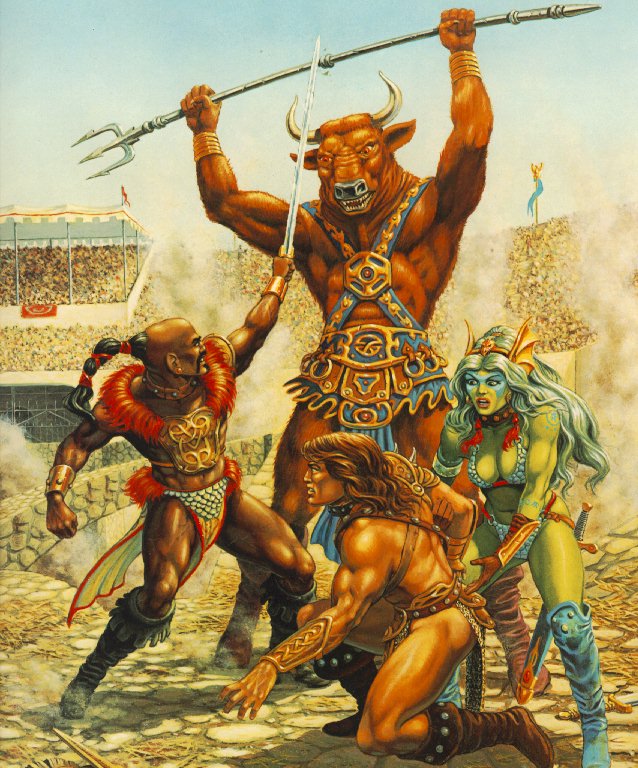 Species Name: Minotaur, Minotaurus
In Greek mythology, the Minotaur (Latin: Minotaurus) was a creature with the head of a bull on the body of a man. He dwelt at the centre of the Cretan Labyrinth, which was an elaborate maze-like construction built for King Minos of Crete and designed by the architect Daedalus and his son Icarus. The Minotaur was eventually killed by the Athenian hero Theseus.
The actual Minotaur race came about around 3700 BC following experimentation on Greek humans by the Olympus Pantheon as an attempt to create warriors who had greater strength and constitution.
Type: Humanoid Bull
Physical Traits: Bull head with horns which do D6 goring damage each.
Height: 6-7 ft
Weight: 200-250 lbs
Abilities: Nightvision. Enhanced resistance to diseases and poisons.
Mobility: Legs
Sensory Organs: Visual
Communication: Vocal
Reproduction: Sexual
INT: 3D6, WIS: 3D6, STR: 4D6, DEX: 3D6, CON: 4D6, CHA: 2D6, MR: 3D6, HPs: CON +D20
Orbit/Climate: See Earth
Feeding Habits: Omnivore
Lifespan: 200 years
Technology: 2
Culture: Standard. Diversified mix of kind and evil people. Minotaurs are each very competitive by nature and enjoy outdoing each other's accomplishments which in turn leads to better overall standards for their civilization. They enjoy games, puzzles, and riddles, and are quite adept at navigating mazes. Minotaur males are particularly aggressive towards strangers and compete with unfamiliar males for dominance in a fantastic display of horn locking and fighting which is always fought barehanded and never intended to kill, but occasionally accidents do occur. Minotaurs aren't very welcome in human civilizations because of their tendancies to violence, unpleasant smell, and communications barriers. Humans look down upon Minotaurs as savage ugly barbarians that only have combat and problem solving skills, and no appreciable literary, musical, or artistic talents.
Government: None
Population: 220,000