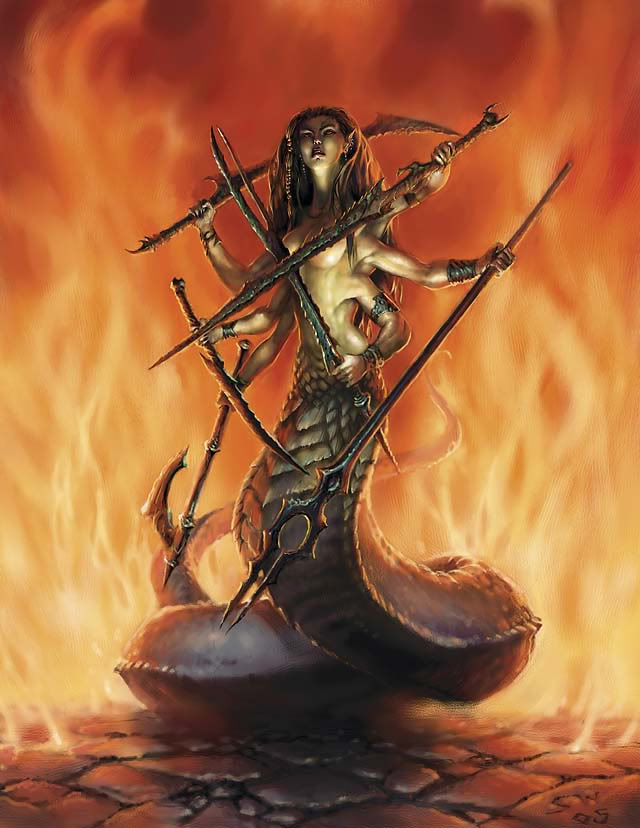 Species Name: Naga, Neak, Nak, Nag
Nāga is the Sanskrit and Pāli word for a deity or class of entity or being, taking the form of a very great snake specifically the King Cobra, found in Hinduism and Buddhism. In the great epic Mahabharata, the depiction of Nagas tends toward the negative, and they are portrayed as the deserving victims of the snake sacrifice and of predation by the eagle-king Garuda. At the same time, nagas are important players in many of the events narrated in the epic, frequently no more evil nor deceitful than the other protagonists, and sometimes on the side of good. The epic frequently characterizes Nagas as having a mixture of human and serpent-like traits.
They are a result of experimentation in Atlantis back in 89,510 BC. After Atlantis fell they fled to various countries. In India they made a home deep inside the Kanchanjenga mountains and became objects of great reverence where it was believed that they bring fertility and prosperity to their venerators. In Tibet the Naga moved into lakes and underground streams and were thought to guard treasure. In Laos they were believed by locals to live in the Laotian stretch of the Mekong river and estuaries.
Type: Humanoid Snake
Physical Traits: Nagas appear as large snake like creatures with humanoid heads. They often range widely in colouring and scale patterns, but are all usually about the same size. Most will stand at a height about equal to or just above that of a regular human, but because of the length of their trailing tails they can raise themselves up by a few feet, to intimidate foes, or simply get a better view.
Height: 4-6 ft
Weight: 80-150 lbs
Abilities: Nagas can alter their bodies at will to become fully human or fully snake. In Naga form their tail may be used prehensiley to lift their own body weight, to wrap around victims and crush them or as a powerful bludgeoning weapon. The tail's strength is equal to the Naga's STR +2.
Mobility: Legs or coils
Sensory Organs: Visual
Communication: Vocal
Reproduction: Sexual
INT: 3D6, WIS: 3D6, STR: 3D6, DEX: 4D6, CON: 3D6, CHA: 3D6, MR: 3D6, HPs: CON +D8
Orbit/Climate: See Earth
Feeding Habits: Omnivore
Lifespan: 90 years
Technology: 2
Culture: Standard. Diversified mix of kind and evil people.
Government: Tribal
Population: 130,000