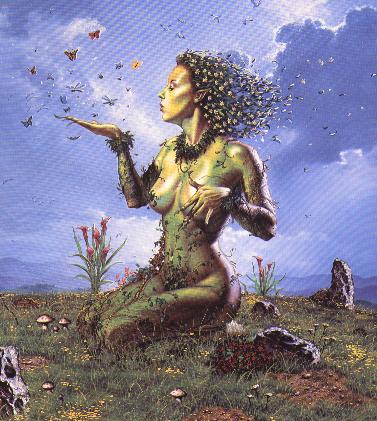 Species Name: Nymph, Dryad, Hamadryad
Nymphs were an important part of Greek mythology and religion. They were revered as the spirits of specific natural features - mountains, rivers, and even groves were usually associated with a type of nymph. The name nymph comes from the Greek word that means young woman, and so naturally these beings were considered to be female. Indeed they were represented as lovely and eternally youthful creatures. Nymphs are graceful, charming, quick, witty and hate ugliness and evil. They will protect and heal all wounded animals and flora.
Type: Humanoid
Physical Traits: Pointed ears. Nymphs resemble Elven women but are beautiful and better proportioned. They are so physically attractive in fact that if they allow their full beauty to be shown it can stun a person, drive a person mad, permanently blind them, or even kill them. Nymphs can mix with normal people by suppressing this effect and posing as humans.
Height: 5' - 6' feet
Weight: 50 lbs
Abilities: Incredible beauty and the ability to Metamorph into their element sign.
Mobility: Legs
Sensory Organs: Visual
Communication: Vocal
Reproduction: Pollination
INT: 3D6, WIS: 3D6, STR: 2D6, DEX: 3D6, CON: 3D6, CHA: 4D6, MR: 3D6, HPs: CON +D6
Orbit/Climate: See Earth
Feeding Habits: Herbivore
Lifespan: Unmeasured but possibly immortal
Technology: 2
Culture: Standard. Diversified mix of kind and evil people. Nymphs pick a purpose in life and stick to it, most are guardians of a forest, stream, or pond, but some live normal lives and devote themselves to another trade.
Government: None
Population: 5,600,000