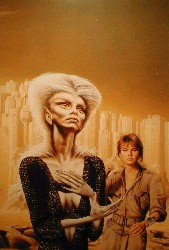 Species Name: Varies greatly according to which alien race they are based on.
A Progeny is the end result of mixing two different species in the biological process of reproduction. As most humanoids share a common genetic ancestor, the ancient humanoids who seeded the Milky Way Galaxy with genetic material, interspecies reproduction can occur between many races. Interspecies reproduction can be difficult between some species as not all species have their genitals in the same place. One of the parents however must always be Earth Human for this race.
Hybridization is not without risk. Anatomical, physiological and psychological abnormalities can occur and affect the nervous system, blood chemistry, or the brain. The hybrid may even be sterile. Some species are also nearly or totally incompatible. Interspecies reproduction between some races requires genetic engineering to assist the process. Genetic hybrids sometimes have heightened strength or senses, gaining the advantages of both parent species without most of their weaknesses. Occasionally, the opposite is also true. In addition to the potential physiological difficulties, some hybrids suffer from the cultural prejudices and taboos of their parents' societies.
Type: Humanoid
Physical Traits: Roll D100 and see below;
01-50 Look exactly like an Earth Human.
51-00 Skin pigmentation and any other minor features (such as pointy ears) from Alien parent.
Height: 5' - 7' feet
Weight: Varies
Abilities: Roll D100 and see below;
01-45 Any from Earth parent.
46-90 Any from Alien parent.
91-00 Any from both parents.
Reproduction: Sexual
Mobility: Legs
Sensory Organs: Visual
Communication: Vocal
Reproduction: Sexual
INT: 3D6, WIS: 3D6, STR: 3D6, DEX: 3D6, CON: 3D6, CHA: 3D6, MR: 3D6. Plus any attribute bonuses from the parents. HPs: CON + difference between parents. See below for more detail.
Orbit/Climate: Depends which planet they live on.
Feeding Habits: Omnivore
Lifespan: Whichever parent has the highest lifespan.
Technology: Depends which planet they live on.
Culture: Varies
Government: Depends which planet they live on.
Population: Depends which planet they live on.