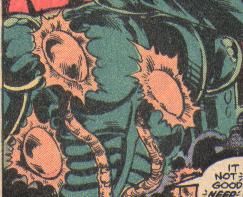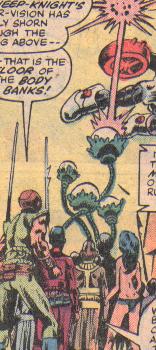 Species Name: Neeto
Type: Herbaceous, plant
Trait: Sweet smelling, multiple mouths, energy blast. Very high mental faculties and agility.
Height: 7 feet
Weight: 100 lbs
Mobility: Feelers
Sensory organs: Tactile
Communication: Telepathic
Reproduction: Pollination
INT: 5D6, WIS: 5D6, STR: 2D6, DEX: 3D6, CON: 2D6, CHA: 3D6, MR: 2D6, HPs: CON +D4
Feeding habits: Herbivore, donít eat full time and usually freeze when an encounter occurs, then flee if attacked.
Lifespan: 250 years
Technology: 9
Culture: Truly kind race with little violence or hatefulness.
Government: Government by advice and consent of the public whether elected council or large government.
Population: 2 billion
Alien relations: Held under the control of the Lobros and Karza, will aid any who fight them.